About The Project
Project Name: Carrville Centre Condos
Location: 1176 Rutherford Rd, Maple, ON L6A 1S2
Developer: Norstar Group of Companies
Architect: —-
Interior Designer: —
Status: Pre-construction
No. of buildings: 1
Storeys: 24
Building Type: Condominium
Total no. of units: 255
VIP Launch Date: —
Estimated Occupancy Date: —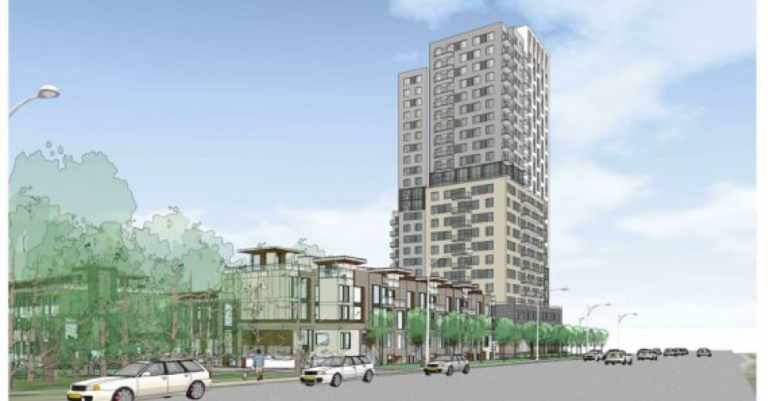 DEVELOPER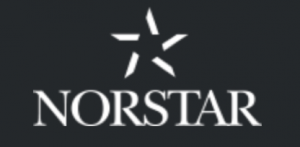 The Norstar Group of Companies carries 50 years of corporate, architectural, construction and project management experience. Norstar currently operates in the United States and Canada, with a portfolio extending from residential, commercial, retail and industrial developments. Each development stands at the pinnacle of innovation and creativity, expertly blending into its surrounding neighbourhood.
AMENITIES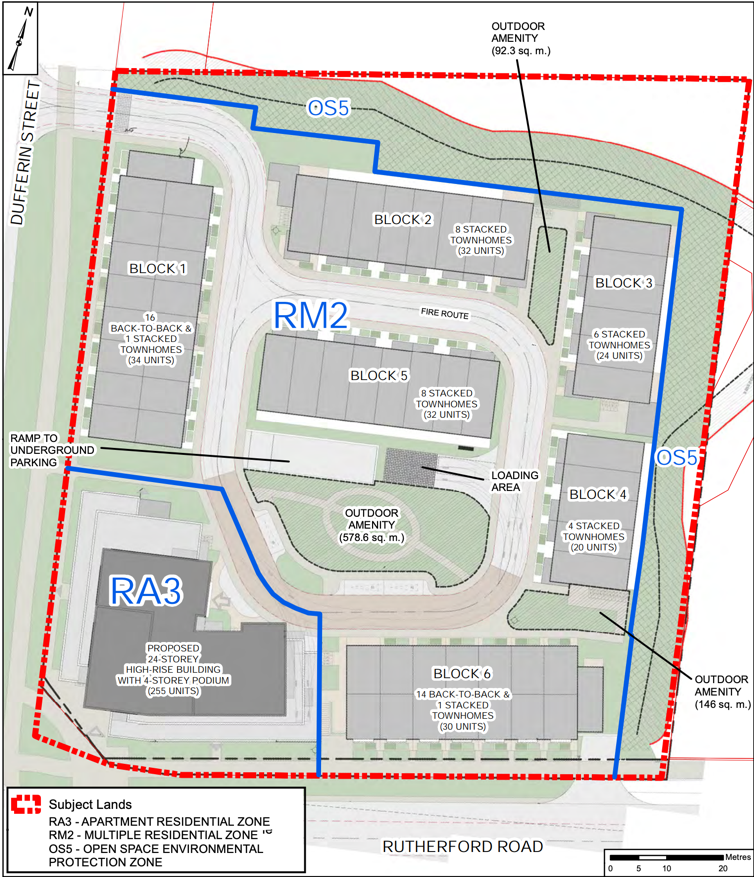 Carrville Centre Condos is proposed to be a mixed-use development consisting of both condominium and townhouse units. There will be a single 24-storey condominium building with a 4-storey podium housing a total of 255 units. Surrounding the condominium will be six blocks of 4-storey stacked and back-to-back townhouses consisting of a total of 172 units.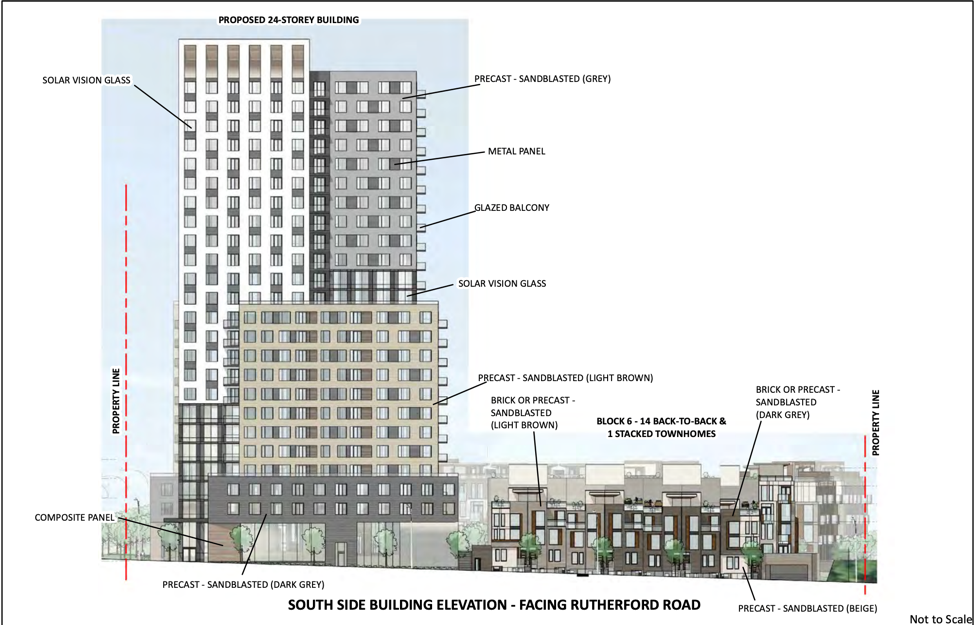 Proposals depict 8,793 Sq. Ft of outdoor amenity space spread throughout the mixed-use development. In addition, an underground parking garage and bike racks will be provided for Carrville Centre Condos residents.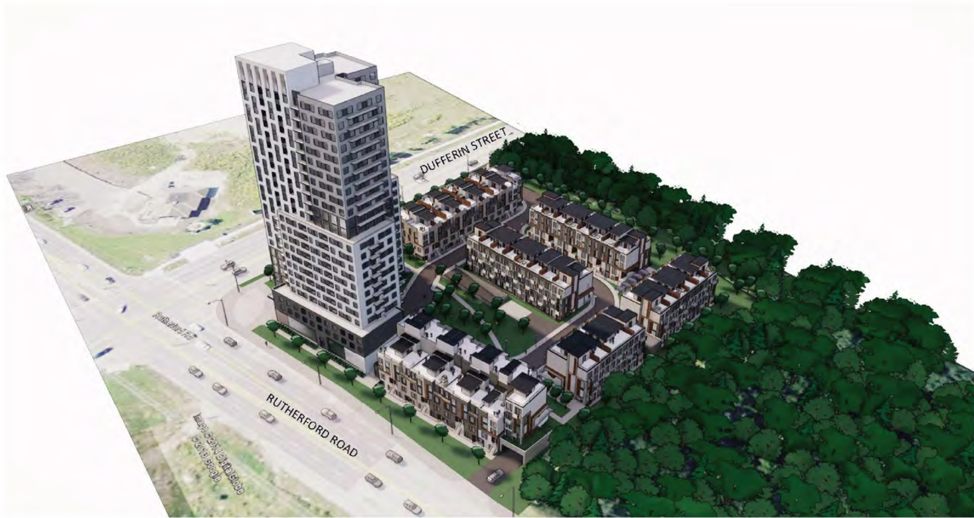 Renderings of the proposed building demonstrate a sleek, contemporary exterior that will become a landmark in the City of Vaughan. The surface will be a blend of glazed balconies, solar vision glass, and metal panels. The tower will consist of a mix of light brown precast at the lower portion and grey precast at the upper portion.
LOCATION
Carrville Centre Condos is where convenience and entertainment meet – with the abundance of parks, schools, restaurants and cafes you'll always have something to do.
You won't have to go far for day-to-day errands and grocery shopping with a No Frills right across the street and a Sobeys nearby.
In addition, the area has a wide variety of restaurants that await you. Dine at one of the many state-of-the-art Italian restaurants such as Levetto, Antonino's Pizzeria & Panini, Dante's Pizzeria, Vivo Pizza + Pasta, Stonefire, Piatto Vecchio Restaurant, and Farro Ristorante to name a few. The neighbourhood also has many cafés perfect for grabbing a coffee on the way to work or school, such as Sorelle and Co. Bakery, Starbucks, Aroma Espresso Bar, Tim Hortons, and Demetres.
The complex is also close to many reputable schools such as Carrville Mills Public School, Forest Run Public School, Stephen Lewis Secondary School, Toronto Waldorf School, Nellie McClung P.S., and Dr Roberta Bondar Public School to name a few.
Living in Vaughan has its perks – you are surrounded by parklands perfect for picking up a new hobby, such as golf! Several golf courses surround Carrville Centre Condos: Richmond Hill Golf Club is only a seven-minute drive away, the Eagles Nest Golf Club is only a four-minute drive away, and The Thornhill Club is only a nine-minute drive away.
TRANSIT
Carrville Centre Condos is located at 1176 Rutherford Rd, at the northeast corner of Rutherford Rd and Dufferin St. Highway 407 is just to your south, where you can connect to other major highways and neighbourhoods. Also nearby is Highway 400 and Highway 404, which makes getting to your destination seemingly effortless!
Luckily for Carrville Centre Condos residents, Rutherford GO Station is only a nine-minute drive away, which also provides connections with York Region Transit such as the 85 Rutherford, 87 Autumn Hill, and 107B Keele buses.
If that wasn't enough, the Yonge Subway Extension plans to extend further north from Finch Station to the Richmond Hill/Langstaff Gateway Urban Growth Centre at Highway 7. This expansion will serve to create greater interconnections between the City of Toronto, the City of Markham, and the City of Richmond Hill.
Carrville Centre Condos will play a vital role in the revitalization of the Vaughan into a contemporary, up-and-coming city. Take a chance to be a part of the transformation.