About The Project
Project name: Charisma on the Park
Location: 8946 Jane St., Concord, ON L4K 2M9
Developer: Greenpark Group
Storeys: TBA
Total no. of suites: 306
Unit size: 572 – 1155 sq. ft.
Unit Mix: 1B, 1B+M, 1B+D, 2B
Occupancy Date: October 2023
Maintenance: Estimated at $0.54/sq. ft.
Taxes: Estimated at approx. 1% of purchase price
Downpayment: Register below for more details.
Price Range: Starting from the mid $400s. Register below for more details.

Phase Two of Vaughan's most anticipated condominium development is in the works- introducing Charisma on the Park by Greenpark Group. The name of this project speaks for itself; Charisma on the Park is all about an improved state of living, class, and charisma. A third building is proposed to be added to the two buildings from Phase One, revamping Vaughan to become a high-demand area by investors.

DEVELOPER

Initially founded in 1967, Greenpark Group is committed to delivering excellence and building long-lasting trustworthy relationships with customers. The founder, Carlo Baldassara emigrated to Canada from Italy at the age of 19 and founded Greenpark Group only a few years later. Carrying over his persevering nature and tenacity from Italy, he has poured all of his efforts into creating a development team that specializes in building a variety of homes from towns, semis and singles, and to high-rise condominium buildings. Presently, Greenpark Group has built approximately 72,000 units, created 24,000 jobs and developed 57 communities.
AMENITIES
Greenpark Group knows that its residents are busy – whether it's commuting to work, dropping the kids off at school, or attending class, residents can attain their dream lifestyle from home.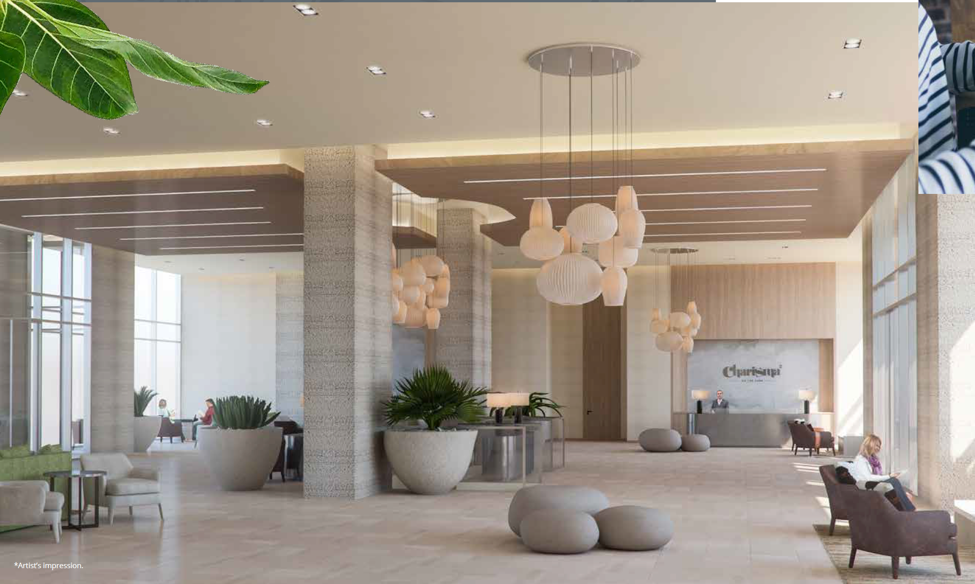 A modern lobby immediately greets residents with lounge spaces, 24 Hour Concierge, and a Wi-Fi Lounge, where working from home has never been easier.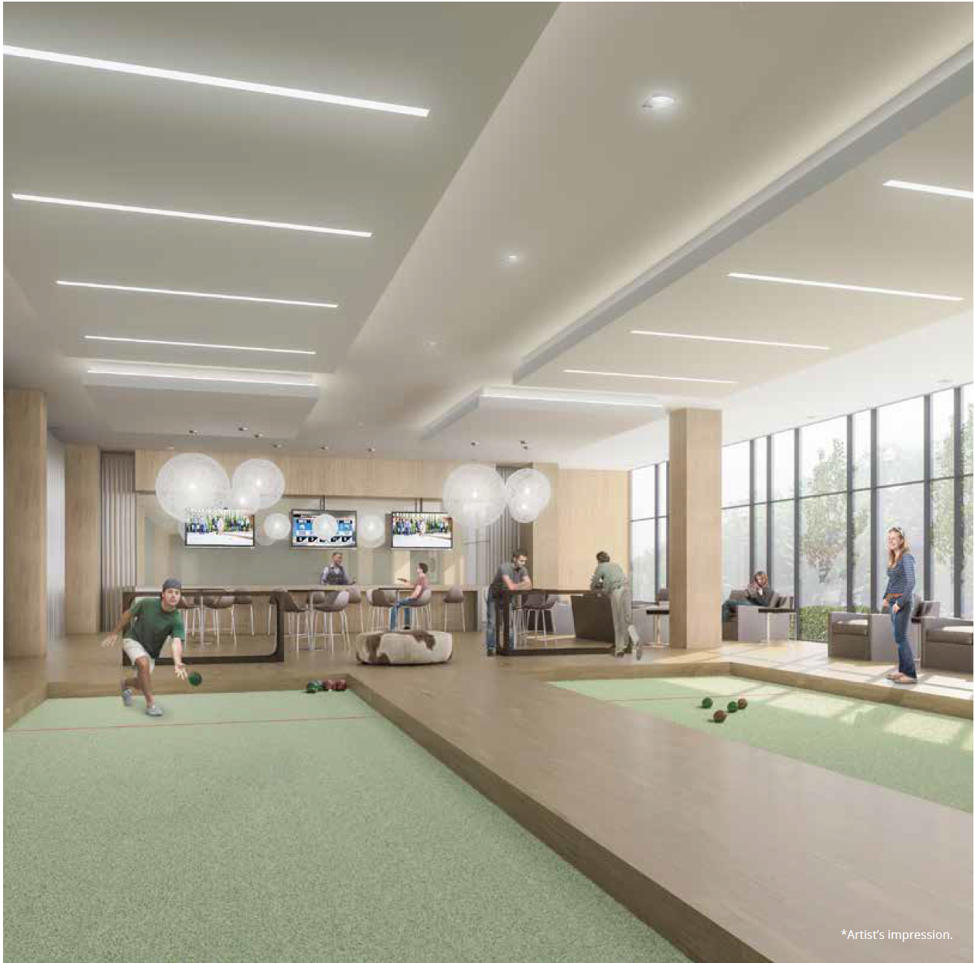 Also on the main floor, entertainment is just moments away at the Bocce Courts + Lounge, Billiards and Games Room, Private Dining Room, and the state-of-the-art Theatre Room. Having your friends and family over has never been more fun – all within the comfort of your own home!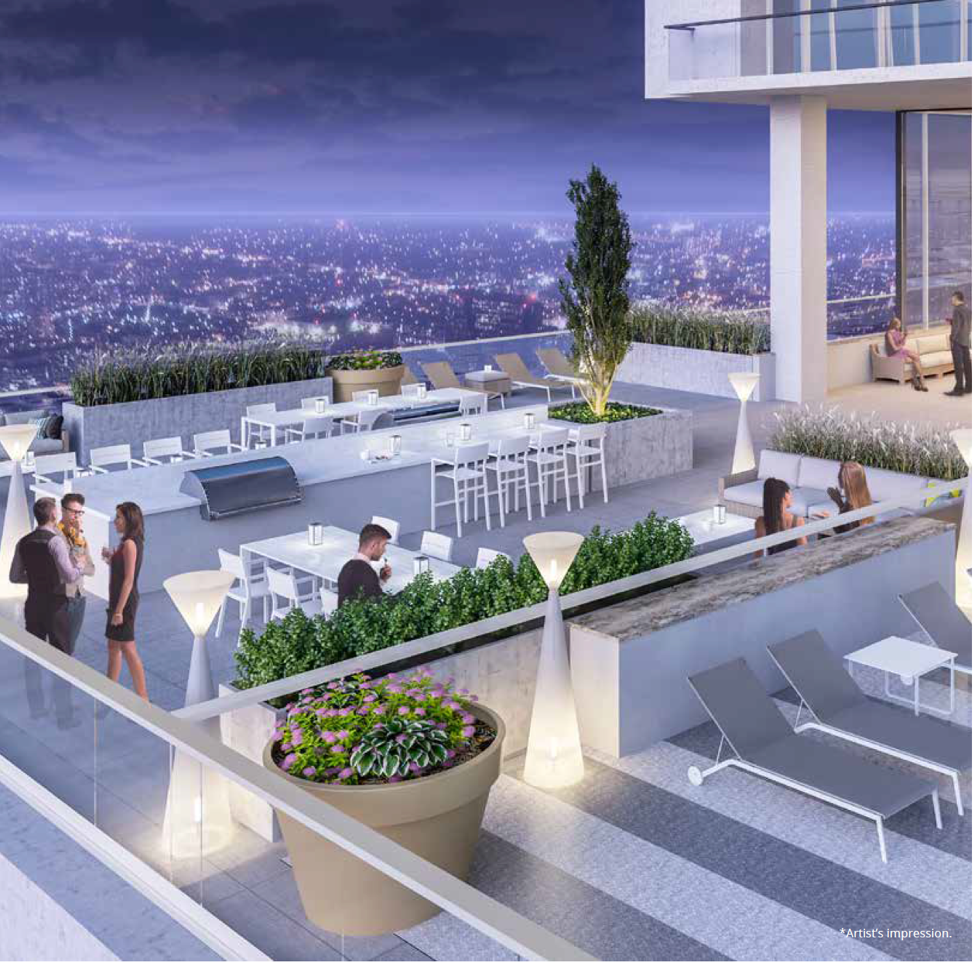 On the sixth floor, residents have more amenities to choose from. Swim in the outdoor pool and bask in the views of the surrounding scenery while you lounge in the Pool Terrace and Lounge.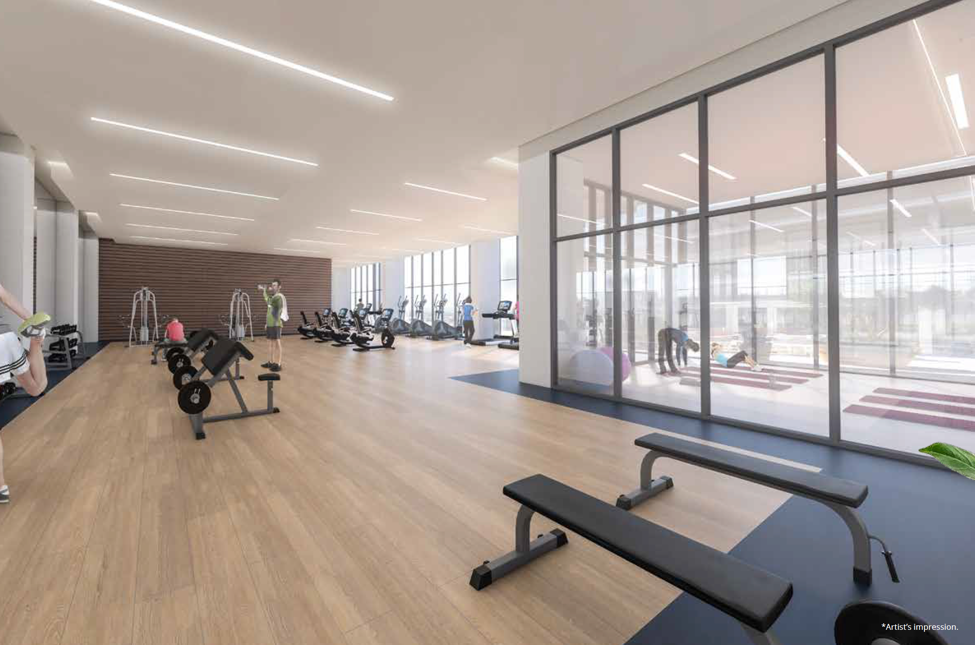 To attain your fitness goals, visit the state-of-the-art Charisma Fitness Club and Yoga Studio. Charisma on the Park promises to take care of its residents, and what better way to rejuvenate and test your body's strength than at the modern fitness centre.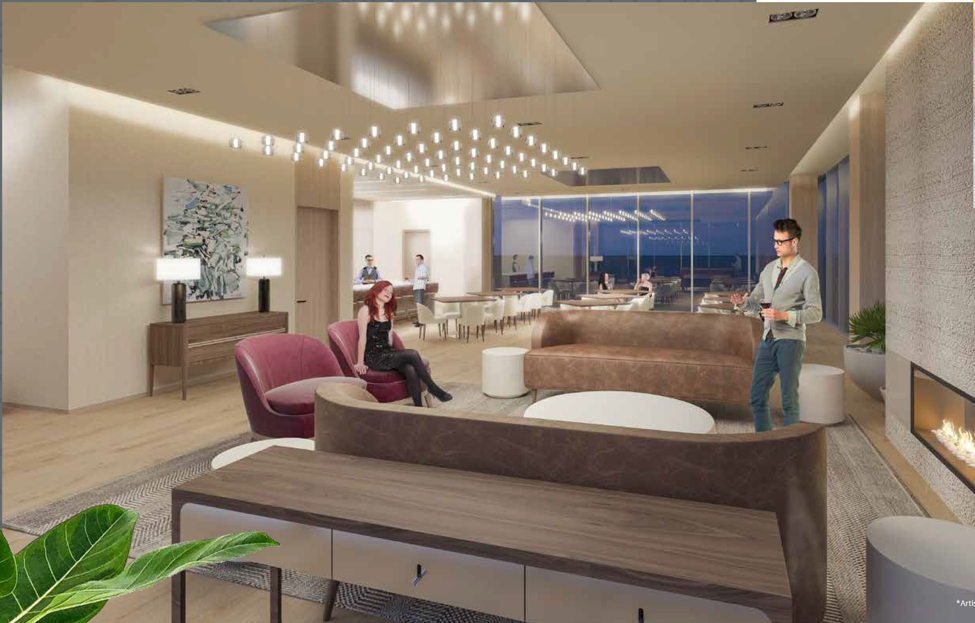 Charisma's Party Room will undoubtedly be home to many grand celebrations, unforgettable memories and the forming of friendships. The indoor lounge features lounging space, a bar, and a chef's style kitchen.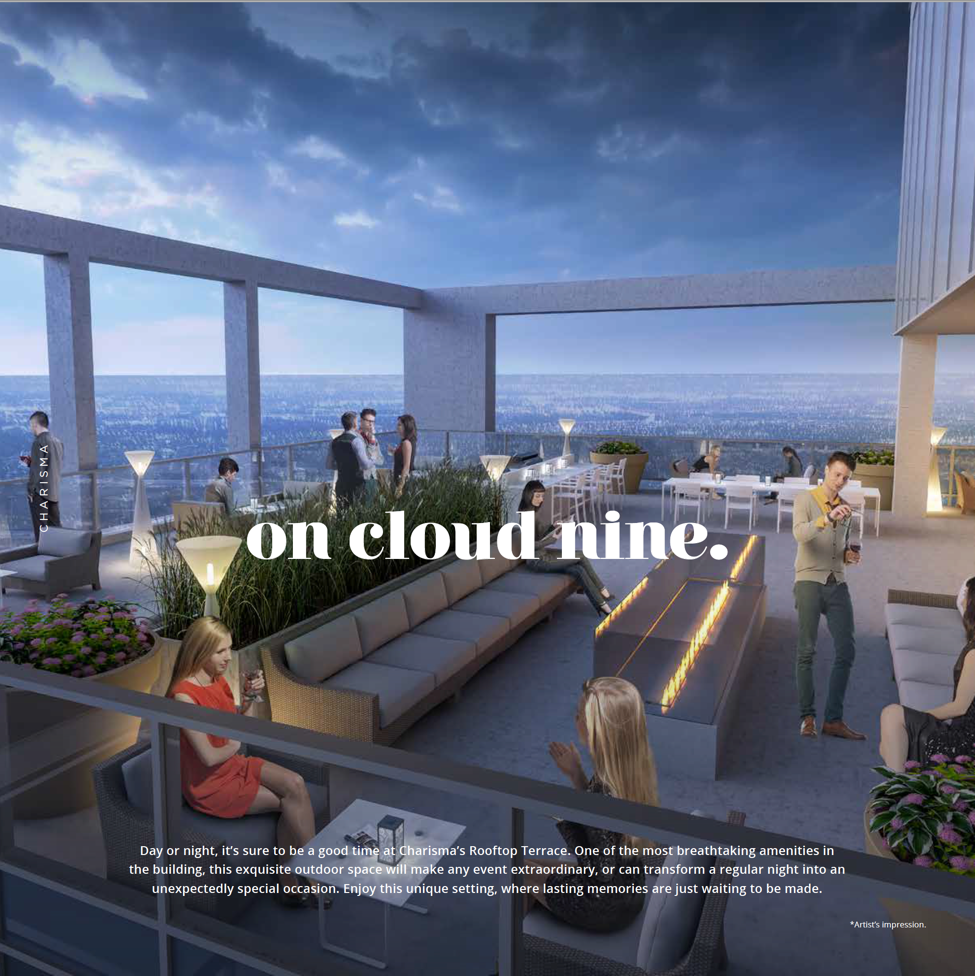 Right outside is the signature amenity at Charisma on the Park, the Rooftop Terrace. Perfect for sunny days and summer nights, you can feel on top of the world when you revel in the sights below.

Last but not least, bask in peaceful relaxation at the Serenity Courtyard, an outdoor lounge space perfect for catching up on your reading, listen to some music, or relax. The Serenity Courtyard is the ideal place to unwind after a long day of work.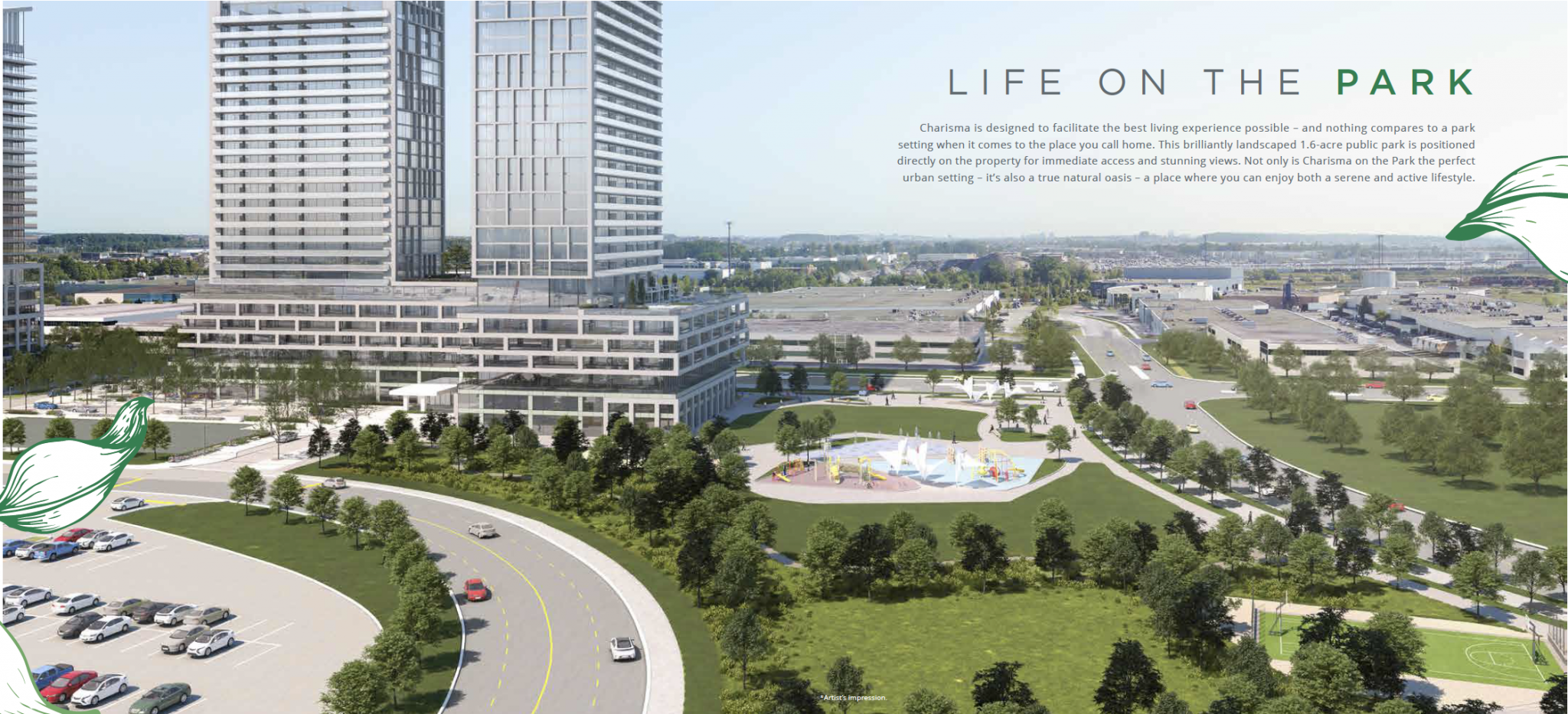 Charisma on the Park lives up to its name as the site features a 1.6-acre public park perfect for recreational activities, afternoon strolls, and catching some Vitamin D.
EXCITEMENT RIGHT OUTSIDE YOUR DOORSTEP
Canada's Wonderland is Canada's largest theme park and the most visited theme park in North America for several consecutive years. It is truly a Canadian landmark. Luckily for residents at Charisma Condos 2, they are only a 7-minute drive away to a world of excitement, thrill, and stimulation. Canada's Wonderland is where Canadians from all around gather to ride the many roller coasters that twist, turn, and soar, visit the kids' area, Splash Works, or attend the special events. The Jane & Rutherford area is already skyrocketing in value, and with the proximity to this Canadian landmark, now is the time to invest in Charisma Condos 2.
Another extremely renowned Canadian landmark, Vaughan Mills, is the ultimate shopping destination for Canadians where outlets, fashion, restaurants, and entertainment all come together to provide you with an unbelievable experience. Vaughan Mills carries a unique selection of outlets and brands such as Nordstrom Rack, Calvin Klein Outlet, Hugo Boss Factory Store, Banana Republic Factory Store, and many more. This cutting edge shopping mall boasts a variety of entertainment attractions as well, such as Bass Pro Shops Outdoor, LEGOLAND, and Discovery Centre are only to name a few.
Feeling hungry after all that shopping? Visit Szechuan Szechuan for some savoury Thai & Chinese dishes, the Pickle Barrel for an assortment of fresh foods, or Chipotle Mexican Grill for some delicious burritos and tacos. Only a 4-minute drive from your doorstep, residents at Charisma Condos 2 can revel in the fact that they live adjacent to not just one, but two Canadian landmarks where people from all around Canada travel to visit.
TRAVEL IN AND OUT OF THE CITY
Getting around Toronto has never been easier – Charisma Condos 2 residents have a myriad of transit options available that allows them to cruise in and out of the city seamlessly. Unlike before, Vaughan is becoming more and more accessible in regards to transit.
Many Bus Stations surround the area with buses such as the 20 Pioneer Village Southbound Bus, 4 Vaughan Mills Mall Westbound Bus, 87 Vaughan Mills Mall via Rutherford GO Westbound Bus, 26 Brandon Gate Northbound Bus, and many more.
The new TTC expansion which includes Vaughan Metropolitan Centre as a stop on the Yonge-University Line couldn't have come at a better time. With the Vaughan Metropolitan Centre Subway Station only a 6-minute drive away, available connections from there include the Brampton and the York Region Transit. From Vaughan Metropolitan Centre Subway Station, residents can hop on to the Yonge-University Line and head Southbound towards Downtown Toronto in just under 43 minutes, or connect to the Bloor-Yonge Line which runs from East to West of Toronto.
Proposals are in place for a SmartCentres Place Bus Terminal to come to the Vaughan Metropolitan Centre with an estimated completion date of 2019. The project is already 91% completed and will have connections to the Viva bus rapid transit on Highway 7, and to the subway.