About The Project
Project Name: King Terraces
Location: 2075 King Road, King City, ON
Developer: Zancor Homes
Architect: TBA
Interior Designer: Tomas Pearce Interior Design Consulting Inc.
Sales Status: Registration
Construction Status: Pre-construction
No. of buildings: 1
Storeys: 6
Building Type: Condo
Total no. of units: 280
Unit Mix: 1-3B
Suite Size: TBA
VIP Launch Date: TBA
Estimated Occupancy Date: TBA
Register  to receive pricing and floorplans upon release!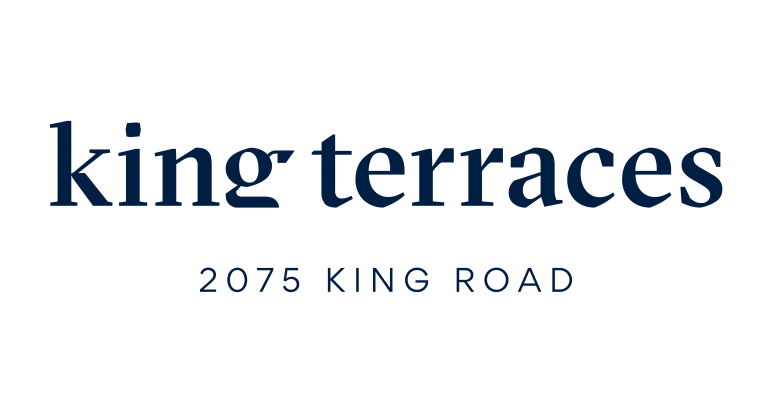 King Terraces will be a luxury condo development built in the heart of King City. From these terraces is a commanding view of King and beyond. From nature to city, it's a perfect view from the comfort of home that completes the day. King Terraces offers a modern home where the best of nature and luxury come together. Experience worry and maintenance-free living in a boutique, mid-rise residence with 280 contemporary, elevated suites offering the best luxuries of home. Enjoy rich interiors and upscale amenities by Tomas Pearce, every space will be beautifully decorated and well thought out.
This mid-rise residence with contemporary and elevated suites will provide the best luxuries of home. Tomas Pearce consistently creates spaces recognized for polished elegance and attention to detail, King terraces will be no exception with lush interiors and upscale amenities are sure to please. Spend your time doing what is most important, with those who mean the most to you.  Relish in rich interiors and upscale amenities including a 24-hour concierge. Enjoy the convenience of dual entrances and lobbies, outdoor pool, rooftop cabana lounge, fitness centre and more. Besides the amazing amenities the building will offer one of the best features about the King Terraces Condos is the view that it provides. Residents here can enjoy spectacular views of the city skyline along with the Oak Ridges Moraine which is located in close proximity.
Located in the heart of King City
8-minute walk to King City Arena Community Centre
20-minute walk to King City GO Station
3-minute drive to King Township Historical Society Museum
6-minute drive to Seneca College-King Campus
Less than 5 minutes to Highway 400
Close to shops, restaurants, and activities
Close to top ranking schools like Villanova College, King City Secondary, King City Public School,
Many nearby public transportation options
Nearby parks include King City Memorial Park, King City Trail, Kettle Lake Park and Dog Park Off Leash King City
King City's core will be just steps away from your suite at King Terraces, an enviable location that is both sophisticated and refined. King Terraces Condos offers the ultimate convenience to residents by being located close to a wide variety of local and brand name lifestyle amenities. Dining, shopping, and entertainment options are all located nearby, some even within walking distance of home.
The area surrounding King Terraces Condos is extremely family friendly, many top-ranking schools are located within walking distance of home and the city also offers a wide variety of recreational activities that cater to all interests and ages. Residents can also get outside and enjoy nature year-round, exploring nearby parklands, nature trails, and the protected Oak Ridges Moraine.
Commuting and travelling throughout the city and York Region is a breeze with easy access to York Region Transit and GO Transit. Highway 400 is also easily accessible to motorists, conveniently located just down the street. Residents of King Terraces Condos can commute into downtown Toronto in just 40 minutes by vehicle and in just under an hour by transit, making getting around the GTA a breeze.

Zancor Homes has been building communities around the GTA for over 30 years. From Stayner to Lindsay, Whitby to Wasaga Beach, and everywhere in between. Zancor communities are designed with more parks and playgrounds and their condos include luxurious amenity spaces. They design homes and condos to flow effortlessly from one space to another with intuitive features and finishes that will empower you and your family. Zancor Homes have a strong passion for design that is matched only by their pursuit of excellence in quality and customer care. From top management to front-line customer care personnel, everyone at Zancor has a responsibility to their customers, going above and beyond to ensure no one goes unsatisfied. These core ideals have shaped every neighbourhood and condo they have created over the years and most importantly, have enriched the lives of everyone who calls a Zancor development their home.
King Terraces by Zancor will be landmark addition to the King City core giving residents the connivence of living in the middle of a city while enjoying the abundance of nature that most cities can't offer. This will be a modern home where you can have the best of both worlds. This is an opportunity you don't want to miss out on, register now to get your unit in this amazing development.