About The Project
Project Summary
Project Name: SXSW
Location: 7082 Islington Avenue, Woodbridge
Developer: Primont Homes
Architect: Quadrangle Architects Ltd.
Interior Designer: Figure3
Status: Pre-construction
No. of buildings: 2
Storeys: 20 & 22
Building Type: Condominium
Estimated Occupancy Date: 2022
Pricing: from the high $300,000's. Register to receive price list and floor plans!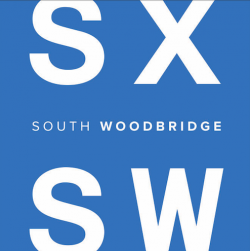 After the successful launch of its first tower, Primont Homes is making another comeback with a second phase of SXSW. A 22-storey tower will join the 31.5 acres master-planned community, connecting to the existing tower via a three-storey podium.
Together, the two towers will host 848 units in additional to a selection of townhomes.
AMENITIES
The amenities at SXSW Condos provides residents with enhanced leisure and bliss in their everyday lifestyles. SXSW Condominiums and Townhomes is a classic 31.5 acres master-planned community comprising of two towers, piercing the Vaughan skyline at 22 and 20-storeys tall. A three-storey podium will link the two buildings at the east end of the site.
The architecture of the building is what makes this project so unique. The design was masterfully thought to integrate into the natural landscape of the ravine and green spaces that surround the site. There is a blend of traditional architectural style with square corners on one side of the building and modern architecture with curved designs on another side.
There is a delicate consistency between the interior and exterior design in the shapes and materials. Materials such as metals, plants, woods, and glass are used in the interior design of the building to create a sense of uniformity from the outside of the complex into the inside.
The amenities at SXSW complement the resident's lifestyle in a way that blends with the surrounding natural landscape. Acres of lush green spaces and a ravine surround the site where residents can take advantage of the beautiful walking trails and bask in the natural setting. You can even lay out a yoga mat and meditate, or host memorable picnics with your family. On the fourth floor, amenity space is dedicated for residents to enjoy the views from between the two towers of the ravine and the parkland below.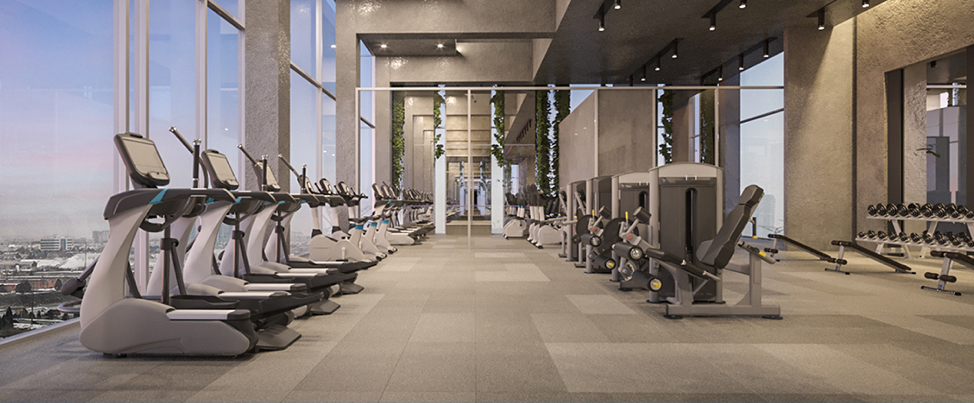 Not only do SXSW residents have the pleasure of connecting to nature's greatest delights, but SXSW offers unique resort-like amenities that ultimately enhance the everyday activities of its residents. On the ground floor, there is a play area for children that is colour coordinated with all the landscaped features throughout the site. This creates a balanced, aesthetically pleasing interior design that incorporates the natural setting of the site. The wide open lawn area makes the perfect spot for playing your favourite sports. The many courts that adorn the site is the perfect place to get to know your neighbour through a competitive game of basketball.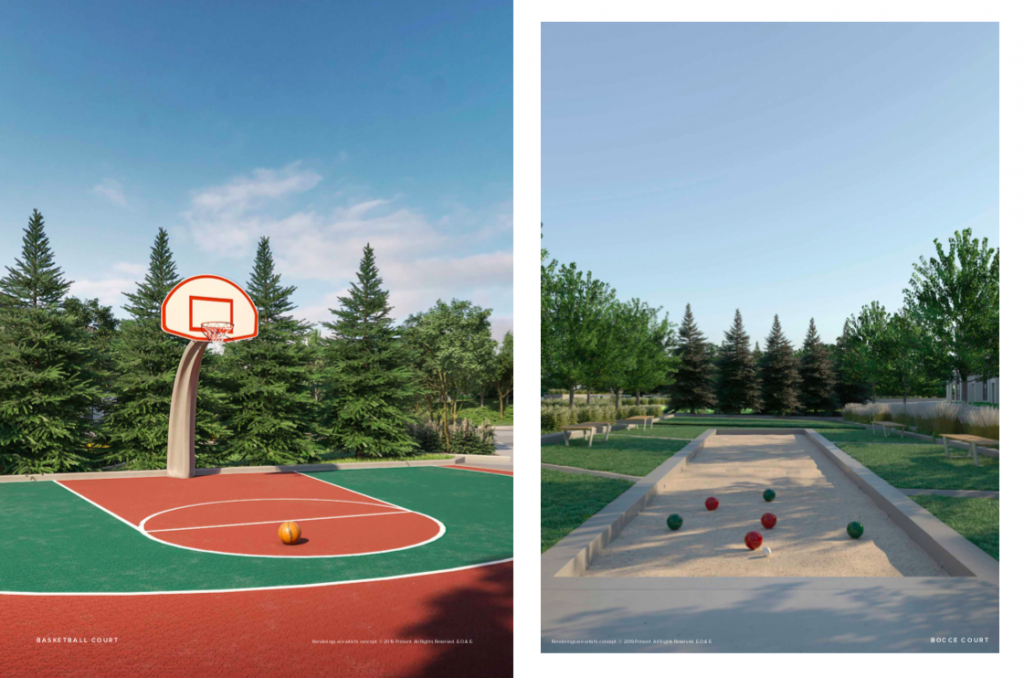 Primont Homes recognizes the importance of a balanced lifestyle in addition to being connected with nature. Residents at SXSW have the ultimate perks – swim in the tranquil pool and soak your stress away, or exercise in the state-of-the-art gym. Relax in the beautifully decorated lounge, graced with gold and marble décor with a stunning view towards the ravine.
A TRUE COMMUNITY
SXSW appeals to a wide demographic because of everything it has to offer. The beautiful landscape, nearby top-rated schools, shopping malls, and dining makes it a real community. The Woodbridge neighbourhood features the most acclaimed private and Catholic schools which offer unprecedented education. This is a prime location for families who are looking to enlist their children in the best schools – such as Venerable John Merlini Catholic School, North Albion Collegiate Institute, Highfield Public School, Smithfield Middle School, and Holy Cross Catholic Academy are only to name a few.
For post-secondary students, the second largest university in Ontario, and the third largest in Canada is only a 7-minute drive away. York University is a widely recognized educational institute in which students from all around Toronto commute to attend a university known for encouraging new ways of thinking through innovative research. SXSW residents have the sole advantage of free shuttle service to the Vaughan Metropolitan Centre and York University.
Down the street, residents have a myriad of elegant dining options perfect for families or date night. Minutes away are critically acclaimed restaurants such as Al Fogolar, Sharks Sports Pub, Yo Amo Tacos Bar 'n Grill, and Artigiano Ristorante. Woodbridge is a great neighbourhood for food fanatics who enjoy delectable meals and treats right outside their doorstep.
BEAUTIFUL PARKLANDS AND NATURE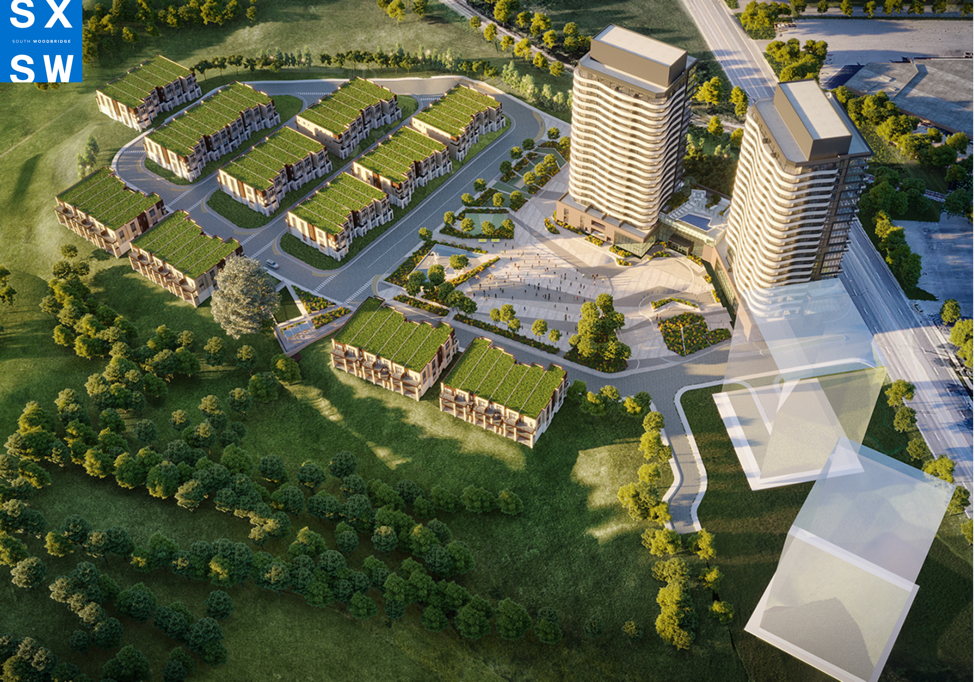 SXSW is embedded in a beautiful site adorned with luscious green parklands and scenic trails. For those who enjoy the outdoors, the activities and options are seemingly endless. Every single day offers a new adventure – whether you're taking a walk at the Thackeray Park Cricket Ground, North Humber Park, Apted Park, or Humberview Park, you will no doubt be exposed to beautiful natural green spaces.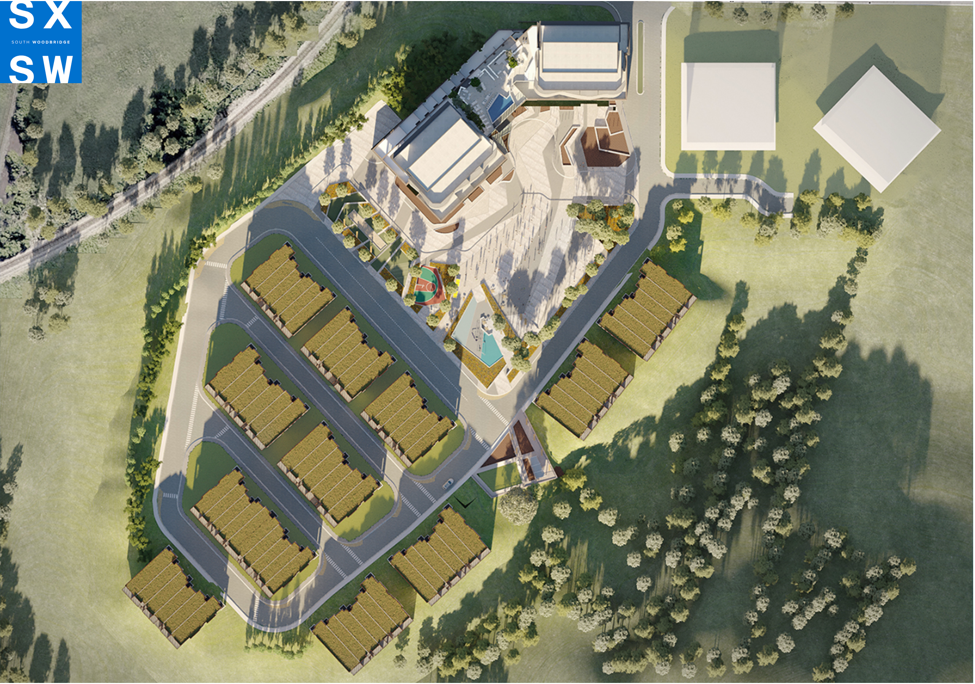 If you want to go bigger with the courts and open spaces at SXSW, then head over to Vaughan Grove Sports Park, where you play against your friends in a friendly game of soccer or baseball. Touch up on your golf skills at the Humber Valley Golf Course, the Oakdale Golf & Country Club, or the Parkshore Golf Club.
TRANSIT
Only a 9-minute drive away is the new Vaughan Metropolitan Centre Station, where residents can hop onto the Yonge-University Line and head to Union Station within a 42-minute subway ride. Right outside your doorstep are many bus stops where the 13 Islington, the 37 Islington, and the 60 Steeles West buses run.
For residents who are driving, major highways surround the site. Easily merge onto Highway 407 or Highway 7 to your north, or onto Highway 401, Highway 400, or Highway 427 to reach your destination. Within a short drive, you can easily access destinations such as Vaughan Mills, Canada's Wonderland, Yorkdale Shopping Centre, Toronto Pearson International Airport, and York University.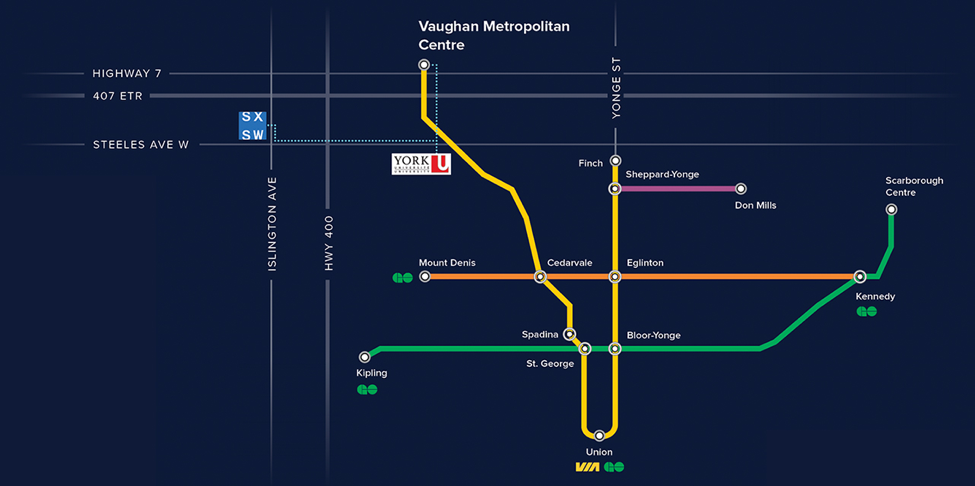 The location of SXSW and its ease of accessibility makes it an appealing investment for a broad demographic of people.
SXSW is truly a community – surrounded by acres of green spaces that offer spectacular views from the suites, yet also an urban setting due to all the amenities that the neighbourhood has to offer. SXSW is unique in the aspect that a wide range of people can see themselves living here, a coalesce of a nature and urban setting.
DEVELOPER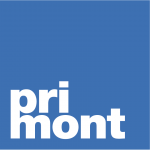 Primont Homes carries a wealth of building experience – for 50 years, the company has successfully built each home with the utmost care and meticulous focus. Primont Homes prides itself in the philosophy of "building every home as if it's our own," a powerful statement of trust that has attracted many homeowners throughout the years. Primont Homes has built master-planned communities with more than 3,000 homes in the GTA.
ARCHITECT

Quadrangle is a well-established architecture firm that excels in providing quality service to clients in a variety of developments such as commercial, mixed-use, multi-unit residential, and retail uses. Quadrangle carries over years of accumulated expertise since its founding date, in 1986, resulting in the achievement of over 100 awards.